Solid Nonfarm Payrolls data at the end of last week gave some strength to Dollar bulls as it consolidated near a 2-month high. The Monday data showed that the US Services sector barely grew in May. This sign of weakness in the services sector is a positive indication for the Fed as it reveals a slowdown in growth.
Traders are now pricing in a 76% chance of a Fed pause at the next interest-rate decision despite the weak jobs data. The Fed has been heavily data-dependent so we can expect this projection to shift when May CPI data is released next week.
Global equity markets have now seen 7 consecutive weeks of net outflows. Major European countries showing recession signals and the weak manufacturing activity out of China have affected the risk appetite for investors.
In today's DIFX Analytics, we're going to look into the following assets:
Bitcoin fell and hit the support at $25,400. This is on the back of fundamental weakness caused by the SEC's complaints posted yesterday. If we continue to see more bears enter the crypto market, Bitcoin may fall to the next support at $24,177.
There is no evidence surrounding the Binance case which has been released yet, so any major moves will be speculation.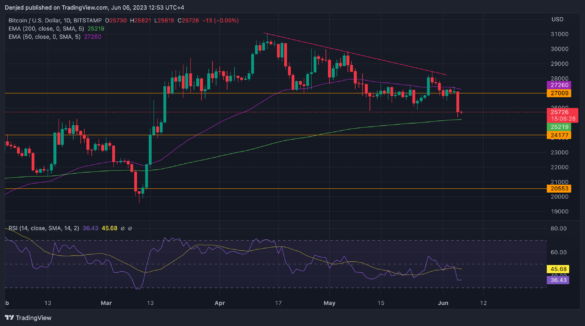 USD/CHF is now losing some momentum. Price action has fallen beneath the ascending trend but still looks slightly bullish.
There are bearish signals in technicals with RSI setting lower highs and dropping below 50. Traders should wait for more confirmation before entering a position.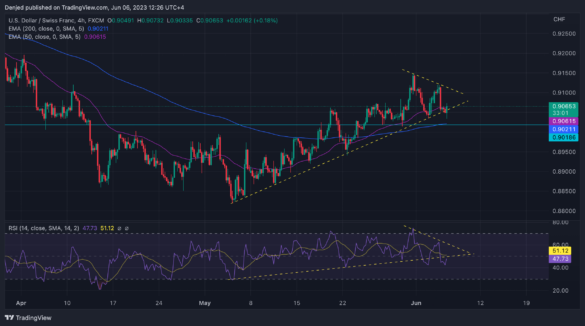 Gold is trading neutral after a bullish retracement upwards. Technicals don't show much change with RSI still trending upwards.
Depending on the Dollar sentiment we could see the metal move in either direction. However, the price action seems to be lining up a downside move to at least $1952.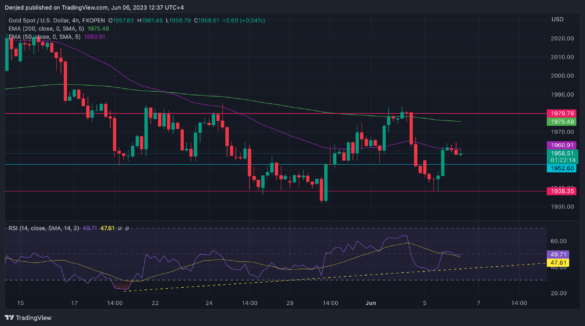 EUR/USD broke the bearish trend to the upside last week with some gains. But are we seeing a bullish reversal for the pair?
The money markets have priced in a 76% chance of a pause from the Fed next week. Traders can wait for more defining directional signals.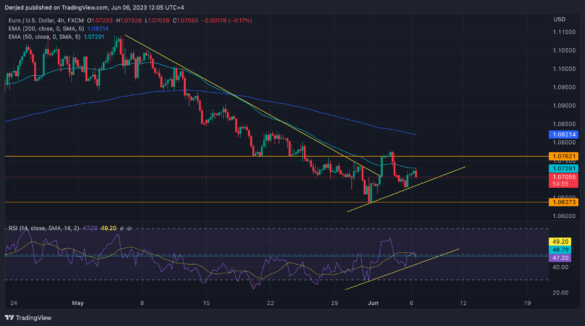 Crypto products are unregulated and could be highly volatile. Please be aware of the risks before investing.
Trading Disclaimer
DIFX shall not be responsible for any loss arising from any investment based on any recommendation, forecast or other information herein contained. The contents of this publication should not be construed as an express or implied promise, guarantee, or implication by DIFX that the forecast information will eventuate, that clients will profit from the strategies herein or that losses in connection therewith can or will be limited. Trades in accordance with the recommendations in an analysis, especially leveraged investments such as foreign exchange trading and investment in derivatives, can be very speculative and may result in losses in particular if the conditions or assumptions used for the forecast or mentioned in the analysis do not eventuate as anticipated and the forecast is not realized.