Jobs data came out mixed last Friday with Wages Growth coming out hot while Nonfarm Payrolls cooling off. The labor market still remains tight which means there are more jobs available than unemployed people who are willing and capable of finding.
This week, we have Core CPI coming out on Wednesday as the last key inflation indicator before the July rate hike. Several Fed policymakers stated that we are near the end of the tightening cycle, prompting a slide in the Dollar during Tuesday's Asian session.
In today's DIFX Analytics, we're going to look into the following assets:
There is a slight bullish trend in Ether shown in the chart. We saw a breakout of this trend but it still seems to be quite reliable.
Price action is in between the 50 & 200 EMAs on the 4-hour chart and we can expect a move toward $1930 in the near term.
With dovish comments out of the Fed, we could see more bullish sentiment in the overall crypto market.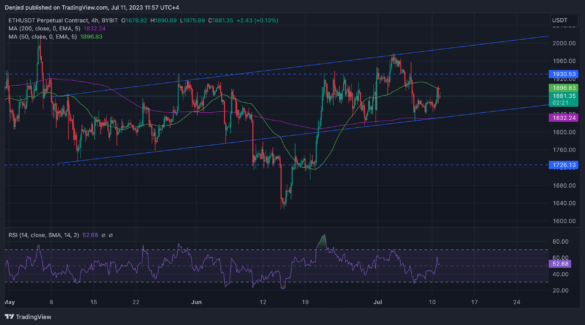 Microsoft is up 40% since the start of the year as the main owner of OpenAI. The tech company is trading near an all-time high of $351.
RSI seems to be diverging from bullish price action which could signal a pullback and give investors another opportunity to enter long positions.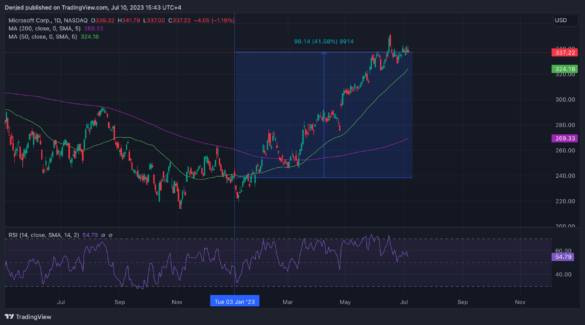 Gold is trading near the 50% Fib retracement line. $1941 is the resistance here and we could see a break above this level as Fed officials expressed a dovish stance on Monday.
Core CPI data coming out on Wednesday will give a better indication of how to price Gold moving forward.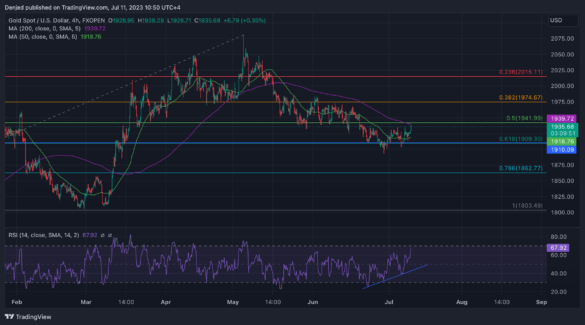 Nvidia is up around 200% since the start of the year as AI pushes on. The chip-maker beat projections and we saw a massive gap upward which has helped the company enter the $1 trillion dollar club.
With the success of ChatGPT, we have seen microchip companies experience increasing demand and we can expect this to continue.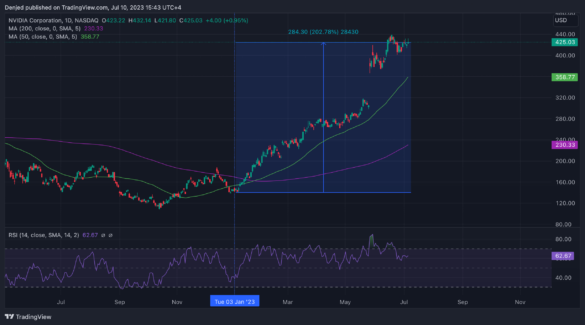 Crypto products are unregulated and could be highly volatile. Please be aware of the risks before investing.
Trading Disclaimer
DIFX shall not be responsible for any loss arising from any investment based on any recommendation, forecast or other information herein contained. The contents of this publication should not be construed as an express or implied promise, guarantee, or implication by DIFX that the forecast information will eventuate, that clients will profit from the strategies herein or that losses in connection therewith can or will be limited. Trades in accordance with the recommendations in an analysis, especially leveraged investments such as foreign exchange trading and investment in derivatives, can be very speculative and may result in losses in particular if the conditions or assumptions used for the forecast or mentioned in the analysis do not eventuate as anticipated and the forecast is not realized.