Last week at the FOMC Press Conference, it was revealed that 12 of the 18 Fed policymakers see at least 2 more quarter-point rate increases before the end of the year and this was met with bearish sentiment for the Dollar.
The BoJ has maintained its ultra-dovish policy stance which is an outlier compared to other major economies but comments from Governor Ueda suggest that if the Japanese economy has a dramatic "spike" in inflation then they will consider hiking rates.
The EU raised rates by 25 basis points last week with CPI data coming out at 6.1%.
This week, we will see the Fed Chair speak twice which is sure to bring some clarity to what monetary policy we should expect in the coming months.
In today's DIFX Analytics, we're going to look into the following assets:
Bitcoin is still within the bearish trend which it has found comfort in for the past couple of months.
Bitcoin maximalists expect a bullish break-out towards $30,000 while bearish analysts are spreading fear of this decrease in price.
It's pretty clear on the chart that even though the SEC is going after major exchanges, this has had no critical effect on price action.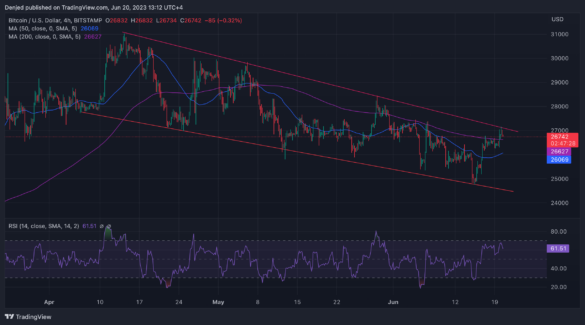 USD/CHF is currently trending upward as the Dollar started the week with some strength. A bearish crossover between 50 and 200-EMA on the 4-hour chart is imminent.
RSI is approaching the 50 level which could be a signal of a reversal.
As all these indicators signal bearish momentum, we also see price action hitting an upper resistance trend line which could be an entry for a short position towards $0.89012.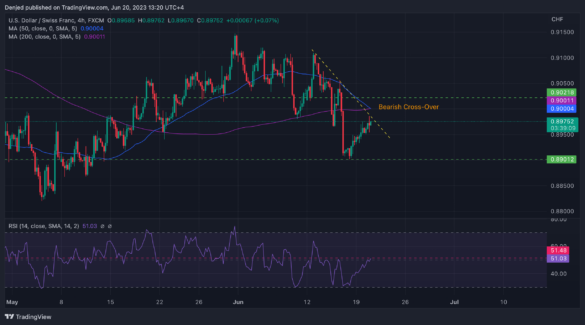 Gold is range-bound and a heavy week of data was not enough to push the asset into either bullish or bearish sentiment.
Against consensus, the metal is still consolidating after a pause in rate hikes and a hawkish view on the policy from the Fed.
In the short term, the Fed is most likely going to hike with a 72% projection which is bearish for Gold. In the long term, there will be a pause in rate increases and eventual cuts will come into play which can be considered bullish for Gold.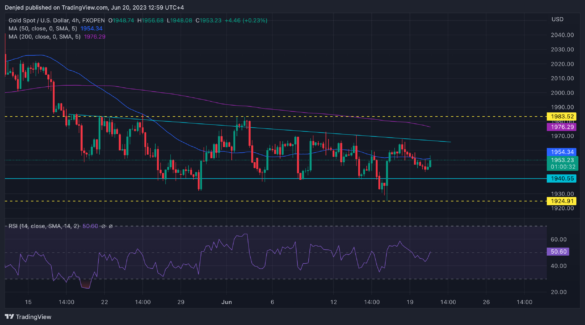 EUR/USD indicates a bullish sentiment on technical indicators. There has been a bullish crossover on the EMA's. RSI is trending upward as price increases.
This has been a consistent trend for the FX pair and we could expect resistance at $1.10 if the trend continues.
The Euro is strengthening on the back of expectations of more rate hikes going into the second half of the year.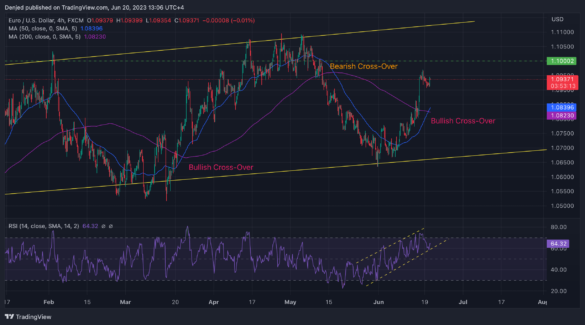 Crypto products are unregulated and could be highly volatile. Please be aware of the risks before investing.
Trading Disclaimer
DIFX shall not be responsible for any loss arising from any investment based on any recommendation, forecast or other information herein contained. The contents of this publication should not be construed as an express or implied promise, guarantee, or implication by DIFX that the forecast information will eventuate, that clients will profit from the strategies herein or that losses in connection therewith can or will be limited. Trades in accordance with the recommendations in an analysis, especially leveraged investments such as foreign exchange trading and investment in derivatives, can be very speculative and may result in losses in particular if the conditions or assumptions used for the forecast or mentioned in the analysis do not eventuate as anticipated and the forecast is not realized.