The FEDWATCH tool predicts a 65% chance of a 25 basis point rate hike in May before the Fed pauses and holds rates. Investors are keeping an eye on commentary from the Fed as a couple of officials are set to speak.
ECB's Lagarde is set to speak this week which will indicate whether the EU wants to move forward from its current position while BoJ Governor Ueda stated that Japan will hold its dovish stance and keep rates ultra-low.
In today's DIFX Analytics, we're going to look into the following assets:
Bitcoin saw steady moves over the weekend and we have not yet had a major pullback.
RSI is still in a bullish area above 50 and the next support sits at $26,481. We can expect a slight retracement followed by a continuation upward.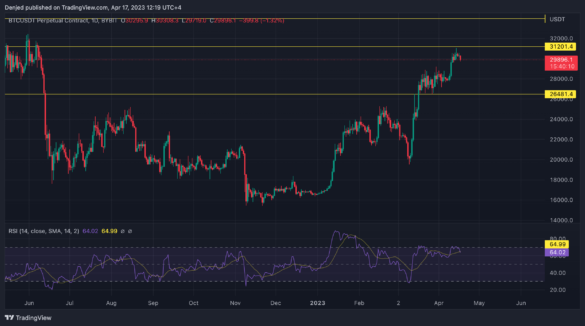 The Dollar has been trending downwards as Inflation indicators showed signs of a cooldown. We may see one more hike in May after which the Fed is expected to hold rates and begin cutting in the second half of the year.
The Dollar took a big hit toward the end of Q1 due to the banking crisis and we have seen no sign of a slowdown in this selloff.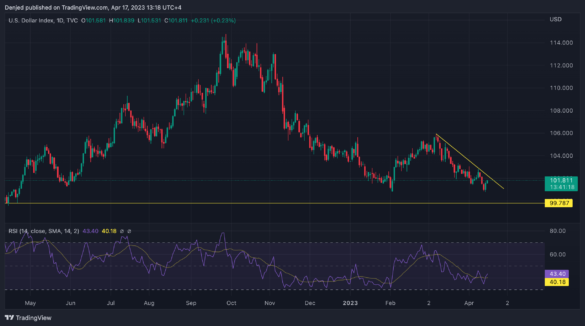 ETH pushed into new territory as it broke above $2100 after the successful Shapella upgrade.
Ether hit 11-month highs on the back of the upgrade which lifted the crypto market. We are now seeing a strong argument for bullish sentiment in the crypto market.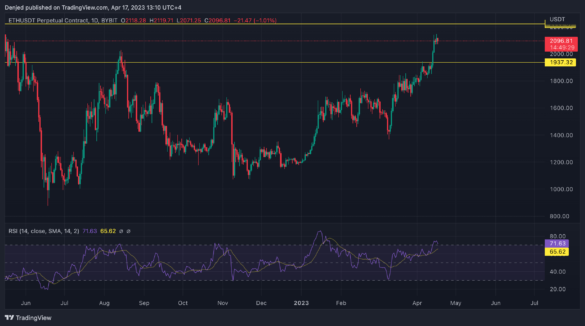 Gold slid last Friday but has seen gains at the start of this week. We can expect Gold to continue bullish as the Fed pivot gets closer.
RSI is slowly turning bearish as the technicals diverge and price action may make a move for an All-TIme-HIgh before we see a significant reversal sign.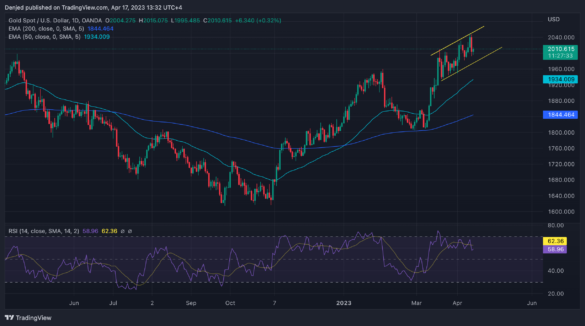 US Dollar/Japanese Yen (USD/JPY)
USD/JPY is trading within this triangle and a breakout to either side will be met with considerable momentum.
The pair is trading sideways as both currencies are seeing some weakness. BoJ is very dovish and sticking to policies with no rate hikes while the USD is seeing a major selloff.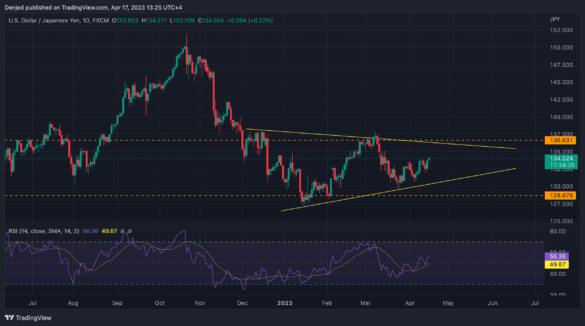 EUR/USD has started the week in a bearish fashion after the pullback from $1.10 we saw last Friday.
RSI has found some resistance around the 60 reading. If Dollar weakness prevails then we could see a rise to break $1.10 more convincingly.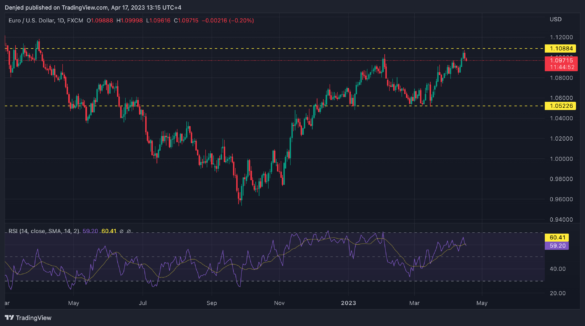 Crypto products are unregulated and could be highly volatile. Please be aware of the risks before investing.
Trading Disclaimer
DIFX shall not be responsible for any loss arising from any investment based on any recommendation, forecast or other information herein contained. The contents of this publication should not be construed as an express or implied promise, guarantee, or implication by DIFX that the forecast information will eventuate, that clients will profit from the strategies herein or that losses in connection therewith can or will be limited. Trades in accordance with the recommendations in an analysis, especially leveraged investments such as foreign exchange trading and investment in derivatives, can be very speculative and may result in losses in particular if the conditions or assumptions used for the forecast or mentioned in the analysis do not eventuate as anticipated and the forecast is not realized.