Yesterday (November 17), the Fed's hawkish statements barely affected the markets. The market now expects the Fed to hike 50 basis points in December and this has been priced in by the huge selloff we witnessed last week.
On the technical side, a reversal in the Dollar is due and investors are expecting upwards gains. Technicals in the crypto market are flat and we may see more price decline before a reversal.

In today's DIFX Analytics, we're going to look into the following assets:
Bitcoin/US Dollar (BTC/USD)
Bitcoin is still consolidating at the 50-day EMA on the hourly chart. The asset is struggling to break to the upside past $17,000 as the resistance level seems to be quite strong.
RSI rejected the 70 level and is reading at 56. Price action looks bearish at the moment and we can still expect more downside moves until fundamentals change in the market.
Market Sentiment:
Bearish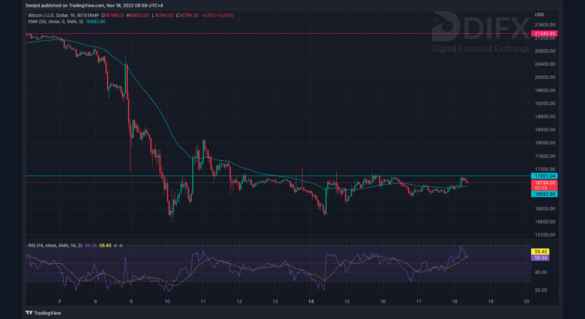 Dollar Index is gaining strength as it begins to retrace upwards. The Index briefly saw gains during New York trading but gave those gains back during Tokyo trading.
Yesterday, Fed officials claimed that they were not close to any sort of pivot yet the Dollar barely budged. Technically, we are expecting a retracement toward $107.7 in the near term.
Market Sentiment:
Bullish
Next Resistance: 
$107.7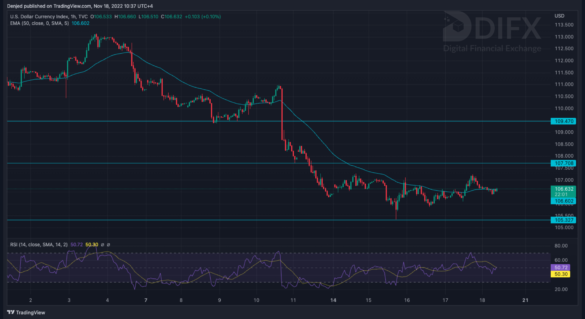 Gold has signaled a slight reversal from the uptrend. It is now trading beneath the 50-day EMA on the hourly chart.
RSI is reading at 50. Price action rejected the 50-day EMA at $1766 and is now trading at $1764.
Market Sentiment:
Bearish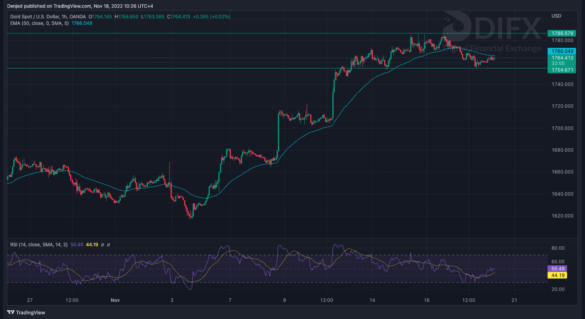 EUR/USD is trading near the 50-day EMA as it enters its reversal. We have seen price action trade between $1.03 & $1.04 during the retracement period.
RSI is falling below 50 indicating further bearish moves. We can expect the price to fall to the support level around $1.0225.
Market Sentiment:
 Bearish
Next Support: $1.0225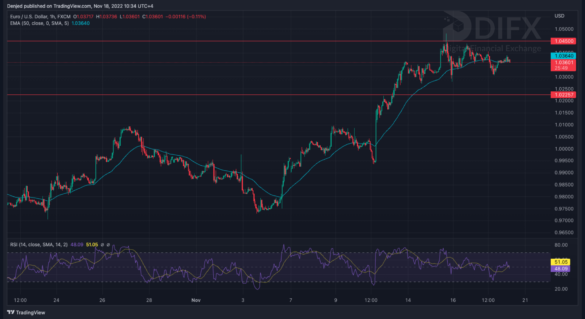 Disclaimer
Trading Disclaimer
Disclaimer
Crypto products are unregulated and could be highly volatile. Please be aware of the risks before investing.
Trading Disclaimer