Welcome to DIFX Dive, where we plunge into the heart of the week's most crucial financial stories. This week is brimming with anticipation as nations and economies make their moves on the global stage.
Japan is poised to reveal its GDP data, offering a telling glimpse into the Q2 growth trajectory. Concurrently, China's unexpected slash of the 1-year lending rate has sent shockwaves through the markets, evoking whispers of mounting pressure.
In the UK, all eyes are on the upcoming CPI data release, a compass for inflation trends. Across the ocean, the Fed is about to unveil the minutes from the previous FOMC meeting, shedding light on the intricate threads of their policy discussions.
Brent Meyer, the Fed's chief inflation sentinel, has hinted at a "smooth" conclusion to the inflation narrative, infusing the air with both curiosity and caution. And speaking of inflation, the EU's latest CPI reading from July is set to reveal the efficacy of their rate hiking cycle.
In today's DIFX Analytics, we're going to look into the following assets:
❖ Gold
❖ Bitcoin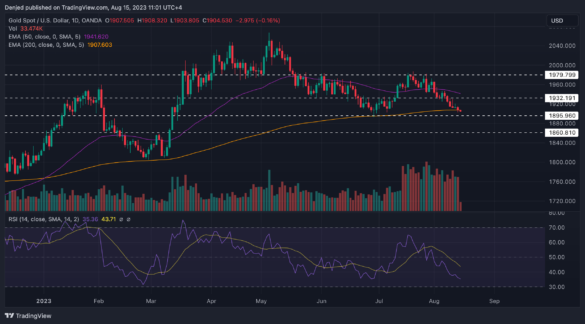 ❖ Gold is breaking the 200-day EMA after bearish sentiment.
❖ Rising yields in the US are supporting the Dollar causing negative price action for Gold.
❖ China's struggles are impacting global trade and investors are now shifting cash into the Dollar for the safe-haven trade which is causing additional weight on Gold.
❖ US 10-year yield is rising and is near a resistance level.
❖ If this current level is broken we could see yields make an upwards move to 4.6% and 5% respectively.
❖ If yields continue to gain, this will result in Dollar bulls, which in turn will affect the rest of the market.
❖ Bitcoin is slowly approaching the trend line, which we forecast will result in some bullish price action.
❖ The digital asset has traded sideways for months now as sentiment has been split.
❖ There is no momentum in the asset to carry it above $32,000 at the moment but we project after the ascending lower trend line is hit, long positions will enter the market.
Crypto products are unregulated and could be highly volatile. Please be aware of the risks before investing.
Trading Disclaimer
DIFX shall not be responsible for any loss arising from any investment based on any recommendation, forecast or other information herein contained. The contents of this publication should not be construed as an express or implied promise, guarantee, or implication by DIFX that the forecast information will eventuate, that clients will profit from the strategies herein or that losses in connection therewith can or will be limited. Trades in accordance with the recommendations in an analysis, especially leveraged investments such as foreign exchange trading and investment in derivatives, can be very speculative and may result in losses in particular if the conditions or assumptions used for the forecast or mentioned in the analysis do not eventuate as anticipated and the forecast is not realized.