US equities have moved slightly higher as the Silicon Valley Bank (SVB) sale is pushed through. Additionally, First Republic soared 27% on the news showing confidence returning in the banking sector.
While US Treasury yields gained on Monday as crisis fears seem soothed, some investors are still concerned about banks sitting on unrealized losses in their balance sheets. The sentiment is mixed at the moment.
In today's DIFX Analytics, we're going to look into the following assets:
❖  Bitcoin has met some resistance at the key level of $28,000.
❖ 
The 25bps rate hike has instigated a selloff in risk assets but Bitcoin still seems bullish as the bank crisis continues.
❖ 
We have seen markets mixed as fear lingers even as SVB has been bought out.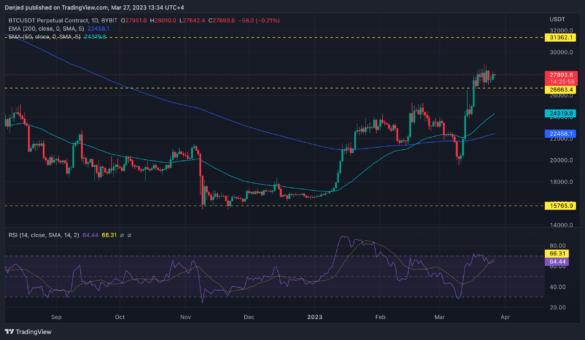 ❖ Ethereum has stalled at the $1800 level.
❖ The digital asset is experiencing consolidation at this key resistance.
❖ The markets are weighing out the path forward after the interest rate hike.
❖ We expect the upward trend to continue even with the rate hike.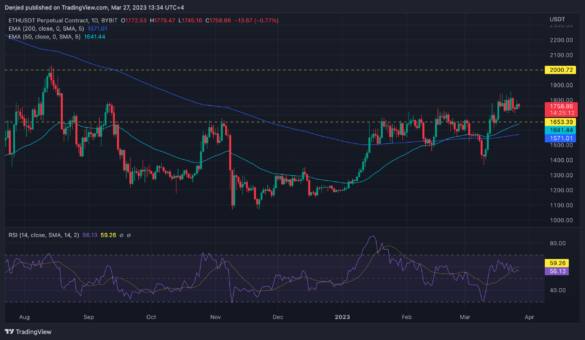 ❖ EUR/USD has seen a steady decline over the past 2 trading days.
❖ The rate hike gave some strength to the Dollar as it gained against the Euro.
❖ We can expect flat trading until the market evaluates the banking situation.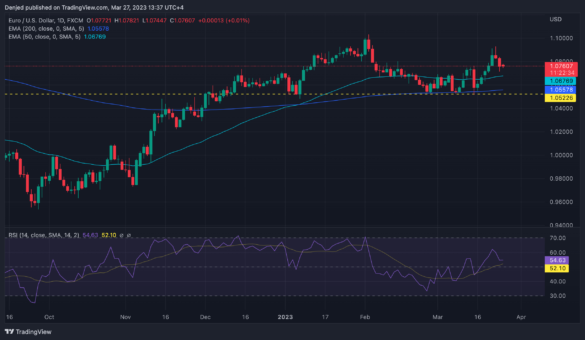 ❖ Dollar Index fell to a recent low of $101.8.
❖ The Dollar is trading below the 200-day EMA, signaling a bearish trend.
❖ RSI is sitting under 50 which further indicates bears in the market.
❖ Major currencies have gained against the Dollar since the crisis.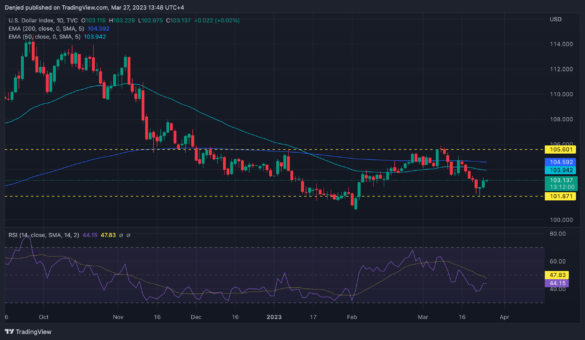 ❖  Gold is seeing some retracement downwards as the market settles slightly.
❖  No sign of a reversal yet and it seems the market is not yet convinced that the crisis is over.
❖  There is still some fear of contagion.
❖  If more uncertainty enters the market then we should see Gold push higher.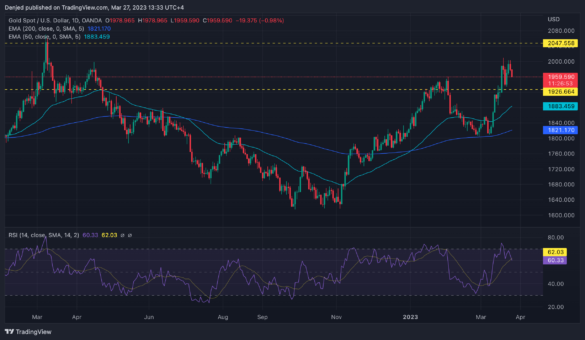 ❖ USD/JPY is trading lower as the Yen gains during periods of uncertainty.
❖ The safe haven currency has seen major inflows since the crisis began.
❖ Dollar weakness has also been largely due to the pricing in a lower terminal rate by the Fed.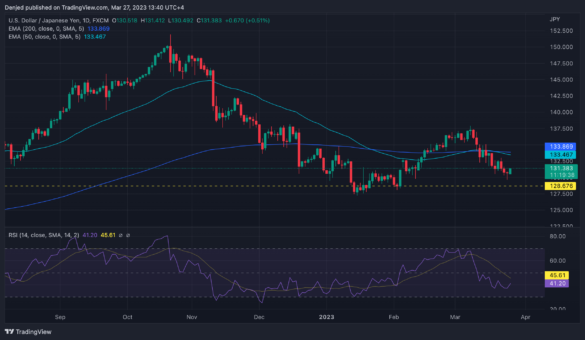 Crypto products are unregulated and could be highly volatile. Please be aware of the risks before investing.
Trading Disclaimer
DIFX shall not be responsible for any loss arising from any investment based on any recommendation, forecast or other information herein contained. The contents of this publication should not be construed as an express or implied promise, guarantee, or implication by DIFX that the forecast information will eventuate, that clients will profit from the strategies herein or that losses in connection therewith can or will be limited. Trades in accordance with the recommendations in an analysis, especially leveraged investments such as foreign exchange trading and investment in derivatives, can be very speculative and may result in losses in particular if the conditions or assumptions used for the forecast or mentioned in the analysis do not eventuate as anticipated and the forecast is not realized.