This week, we had the FOMC minutes which came out hawkish which is quite bullish for the Dollar, and bearish for Gold. The data also pushed Bitcoin price down as it briefly crossed the $17,000 mark.
We are expecting the Nonfarm payrolls to be released today at 17:30 Gulf Standard Time. This data shows the number of people who entered the job market in the past month and is an indication of inflation and growth in the US.
In today's DIFX Analytics, we're going to look into the following assets:
The dollar is trending upwards. RSI is increasing, entering a higher rate and we expect it to cross 70 in the near term. Overall, the Dollar is bullish as the index recovers from a few months of weakness.
We are waiting to confirm a reversal, however, it can be considered a retracement or pullback at the moment.
Market Sentiment: Bullish
Support: $104.5
Resistance: $105.5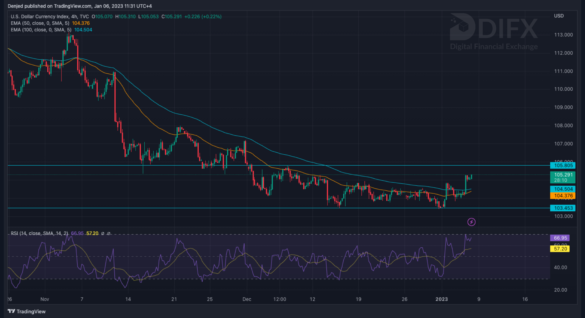 Bitcoin/US Dollar (BTC/USD)
Bitcoin is trading around 100-day EMA near $16,800. We are witnessing more long positions for the asset which can push it up to $17,000.
From technicals, we are expecting more bulls unless RSI falls below 50.
Market Sentiment: Consolidating
Support: $16,500
Resistance: $17,000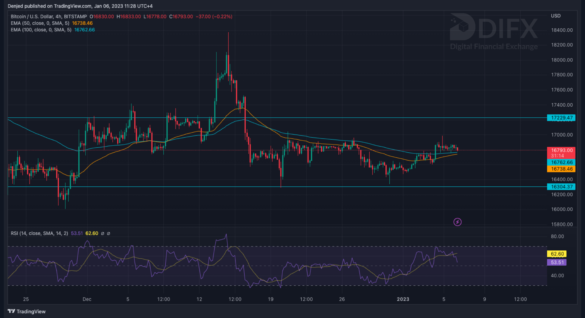 We are expecting Nonfarm payroll data today which will can cause more volatility in the market. We could see the Dollar bullish and EUR/USD drop to the next level around $1.04.
Market Sentiment: Bearish
Support: $1.045
Resistance: $1.052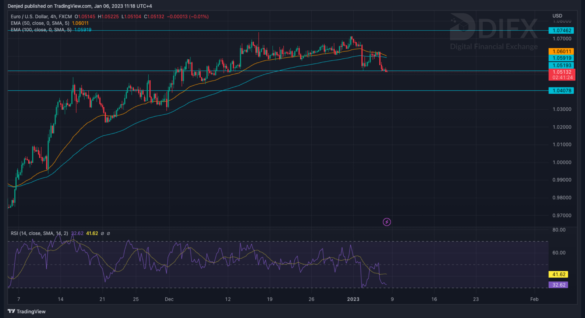 Gold is retracing. A higher-than-expected ADP Nonfarm data can be bullish for the dollar and bearish for Gold. If that happens, we may see a sharp decline in Gold toward support 2 and 3.
Market Sentiment: Bearish
Support: $1833
Resistance: $1841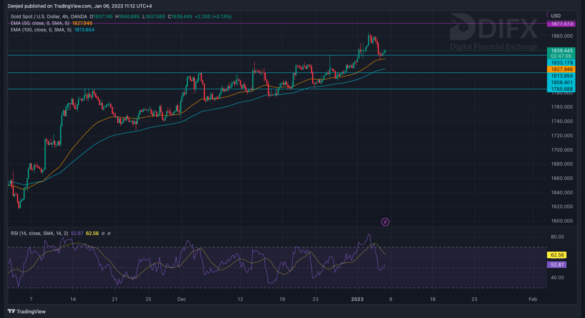 Crypto products are unregulated and could be highly volatile. Please be aware of the risks before investing.
Trading Disclaimer
DIFX shall not be responsible for any loss arising from any investment based on any recommendation, forecast or other information herein contained. The contents of this publication should not be construed as an express or implied promise, guarantee, or implication by DIFX that the forecast information will eventuate, that clients will profit from the strategies herein or that losses in connection therewith can or will be limited. Trades in accordance with the recommendations in an analysis, especially leveraged investments such as foreign exchange trading and investment in derivatives, can be very speculative and may result in losses in particular if the conditions or assumptions used for the forecast or mentioned in the analysis do not eventuate as anticipated and the forecast is not realized.