The role of DIFX has always been to be a disruptive exchange in the blockchain industry, as our vision is to create a platform like no other! One that bridges the gap between the standard and innovative, something that today's modern trader can use with the evolving technological environment.
With so many innovations coming out from within the blockchain industry, it is essential to provide existing financial traders with an avenue to leverage this technology. To make crypto adoption truly flourish, DIFX came with a unique solution that provides its users to trade between traditional and digital financial assets under a singular ecosystem. Within its platform, users can grow a diverse portfolio of Cryptocurrencies, Stocks, Indices, Commodities, Metals, Crypto CFDs and so much more. What's even more innovative is that with DIFX, users can trade CROSS-ASSET.
What is Cross-Asset Trading?
Cross-asset trading connotes actively trading between more than one asset class at a time. What it means here is that with DIFX, users can actively trade between a digital asset like Bitcoin with a traditional asset like Gold.
How can you Cross-asset trade with DIFX?
To facilitate cross-asset trading, DIFX has integrated a custom MetaTrader5 platform with 600+ instruments ranging from traditional assets, cryptocurrencies and crypto CFDs.
Its comprehensive ecosystem was created with the mechanics of keeping numerous trade verticals in a single unified application while solving real-world trading challenges by cross pairing between all asset groups. With the DIFX MT5 traders can leverage their trading strategies across 4 markets and numerous instruments, and they can utilize market conditions/trends to their maximum advantage to create a diverse portfolio of investments. On top of that, DIFX has the capacity to address issues such as security, liquidity, excessive trading fees, and scalability.
Furthermore, DIFX gives its users added security by providing them with a fully-insured wallet that ensures the safety of their funds from theft, malpractices, bugs or any errors that occur within the exchange.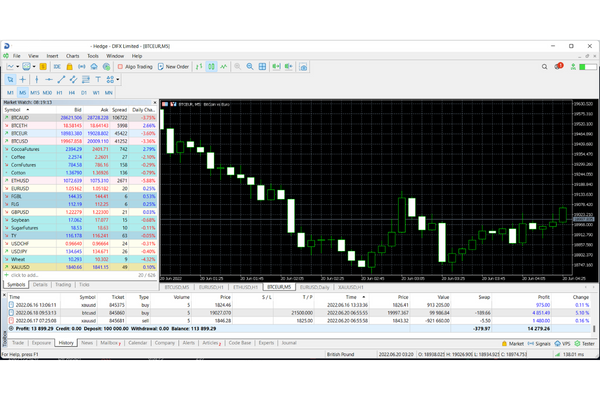 With the DIFX MT5 users have access to superior tools for comprehensive price analysis and advanced algorithmic trading applications to trade Forex, Futures, and Stocks. They provide professional analysis, fundamental analysis to forecast price dynamics, and copy trading functions that can be accessed through their desktop, mobile, and web applications.
DIFX and MT5's integration enables traders to take advantage of even more advanced tools that will enhance the platform's functionality. From facilitating a set of indicators that may help DIFX customers make more educated decisions to giving analytic tools that can help users estimate the performance of the assets more accurately.
Currently, DIFX is in the process of adding yet another innovation to their endless list: Futures Trading. This opens another avenue for DIFX users to leverage their trading strategies and grow their portfolios. With this addition, users will be freely able to make multi-asset trades seamlessly under one platform, with the possibility to increase their profits with leverage positions. For DIFX, this is an incredible milestone in the exchange's goal to increase crypto adoption and provide users with a safe and secure trading platform!
DIFX is planning to release some new upcoming features revolving around futures and insurance trading, so stay tuned to get further updates!
Please note that trading cryptocurrencies may carry a high level of risk. It's recommended to always seek professional advice before any investment and only investment the amount you can afford to lose.