Too busy to stay updated on the markets? We are here to give you a quick glimpse on what's happening in the crypto and traditional markets. Tune into our weekly DIFX Trading Analysis and Insights to optimize your trading strategies.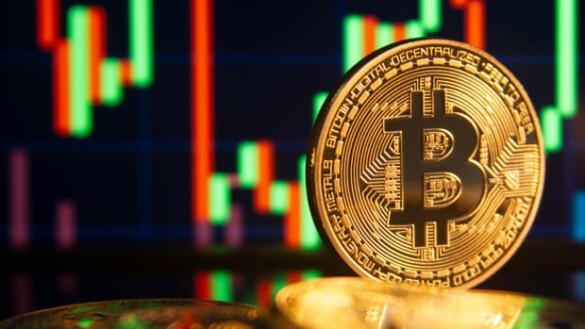 It has been an interesting week for BTC with its price seeing a short-term bullish push towards $21,969. From a technical point of view, this is a set up to trick bulls into jumping on the back of an event. With a possible break to the upside above $21,969 or even $22,000, Bitcoin bulls will jump in on the break and risk being dragged below their entry point. As this event is completely headline-driven, any word or phrase could trigger a market reaction in a matter of seconds and could see BTC price dropping like a stone towards $19,036 in its best case, or could even slip as far as $16,020, bearing 26% of losses in just a matter of minutes.
Users need to bear in mind that the key event to be on the lookout for is the Jackson Hole Symposium from the Fed, a must-watch event for traders of any asset class in the financial markets, even cryptocurrency traders!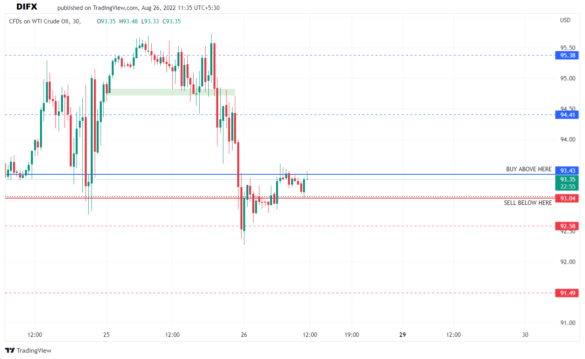 A loss in momentum brought exhaustion in the upside movement, it is also noted that the divergence in asset price and momentum oscillator has accelerated the odds of a bearish reversal.
Analysis also show that the Intermediate (WTI), futures on NYMEX, has displayed a short-lived pullback after printing a three-day low of $92.16 in the Asian session. The sheer upside rally from the past week has met exhaustion and is undergoing a correction mode. However on an hourly scale, the asset consecutively formed higher highs but with a decline in buying interest.
Should the asset drop below the round-level support at $92.00, bears will strengthen further and drag the asset towards the August 22 high of $90.98, followed by the August 17 high of $88.65. Alternatively, bulls could regain control if the asset oversteps the August 24 high of $95.10. An occurrence of the same will send the asset towards July 26 high of $98.4 and the psychological resistance at $100.00.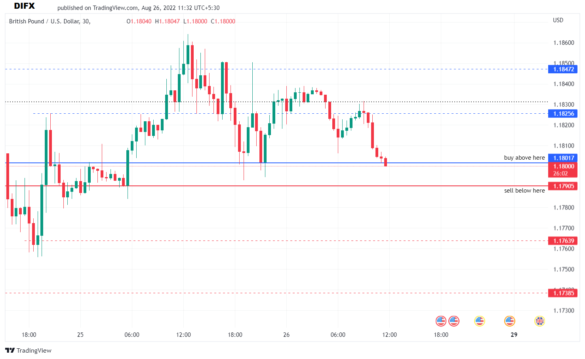 As per today's analysis, intraday traders can look for longs above $1.18017 with targets near $1.18256 and $1.18472. Alternatively, they can look for shorts below $1.17905 after retesting only with targets near $1.17639 and $1.17385.
This week GBP/USD has been under some pressure that has led to movement back to a flat position for the day as the US dollar perks up in Tokyo ahead of the Federal Reserve's chairman Jerome Powell speaking at the Jackson Hole later today. Analysis also shows that the US dollar has gained against a basket of currencies on Friday, but trades below the 20-year high. Chairman Powell's speech will definitely give insights to investors to be on the lookout for fresh clues on how aggressive the central bank will be in its battle against inflation.
Disclaimer
Trading Disclaimer
Disclaimer
Crypto products are unregulated and could be highly volatile. Please be aware of the risks before investing.
Trading Disclaimer