The G20 summit in India will host financial chiefs to discuss global matters, the most pressing topics regarding sustainable financing for developing economies as they struggle to meet interest rate payments whilst facing high borrowing costs, currency devaluations, and a slowdown in growth.
Financial chiefs will also discuss the regulatory framework for cryptocurrencies and how to tax multinational conglomerates.
Q2 earnings season starts with Tesla, the first of the megacap stocks posting results on Wednesday. Tesla is one of the 7 large corporations which have helped boost equity indexes in 2023.
In today's DIFX Analytics, we're going to look into the following assets:
❖ Ethereum
❖ Meta
❖ British Pound
Ethereum is bearish in the short-term but the long-term trend drawn is still bullish. Traders should wait for the lower level of the bullish trend to be hit if they want to go long. $1850 will be hit if this trend persists and traders can use a breakout of this resistance as a stop-loss.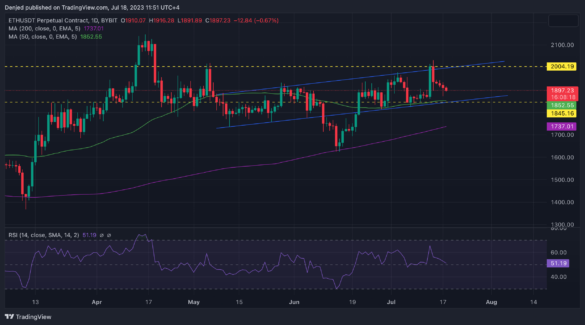 The crypto market has experienced bears since the positive sentiment which could mean many things; either investors are selling positions in Eth to buy XRP or the market is repositioning itself for a bull run.
Meta slumped to lows of $88 a share in late 2022 with the Street short due to the direction the company was going in terms of Metaverse investments, compounded with hawkish sentiment from the Fed.
Late 2022 was also the same time the Fed began to shift to a less hawkish policy as we began to see inflation data slow down, pushing most stocks up. Meta has since restructured and abandoned the metaverse as their top priority.
Meta is still around 20% from their high and is extremely bullish and with the release of their new social platform, Threads, the stock may still be undervalued.
The Pound has gained against the Dollar throughout 2023 with US inflation slowing down at a more-than-efficient pace.
The chart shows key levels which traders can follow:
❖ Support 1: $1.300
❖ Support 2: $1.287
❖ Resistance 1: $1.327
❖ Resistance 2: $1.345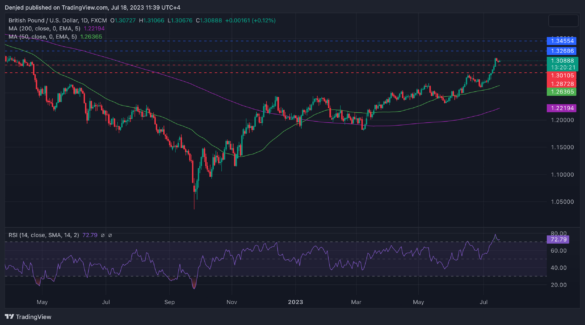 The currency pair is trading above the moving averages and technically the forecast is bullish.
Fundamentally, we still have a more hawkish policy rate expected out of the Bank of England as they are still far off their inflation target which will be bullish for GBP.
On the other hand, the Fed will be considering coming to an end of their hiking cycle which will be bearish for the Dollar.
Crypto products are unregulated and could be highly volatile. Please be aware of the risks before investing.
Trading Disclaimer
DIFX shall not be responsible for any loss arising from any investment based on any recommendation, forecast or other information herein contained. The contents of this publication should not be construed as an express or implied promise, guarantee, or implication by DIFX that the forecast information will eventuate, that clients will profit from the strategies herein or that losses in connection therewith can or will be limited. Trades in accordance with the recommendations in an analysis, especially leveraged investments such as foreign exchange trading and investment in derivatives, can be very speculative and may result in losses in particular if the conditions or assumptions used for the forecast or mentioned in the analysis do not eventuate as anticipated and the forecast is not realized.