Wednesday should bring the final rate increase from the Fed's aggressive post-pandemic hiking cycle while the ECB is expected to hike rates this Thursday by 25 basis points.
The Core PCE Price Index will be released on Friday and as the primary indicator for inflation in the US, it should bring some activity to the markets. Microsoft and Alphabet will release their earnings this week.
In today's DIFX Analytics, we're going to look into the following assets:
After ChatGPT founder Sam Altman launched Worldcoin, it reached a high of $3.3 with a 1500% gain in the first 5 minutes. Since then, we have seen some retracement as the market calms with initial investors potentially taking profits, however, we can expect further bullish momentum as the hype spreads.
Worldcoin launched globally in 35 cities where users can sign up and verify they are human by performing an iris scan. In certain countries, users get WLD token rewards for signing up.
The founders say that in a world of generative chatbots like ChatGPT, World IDs will be vital as we would need to verify whether we are speaking to an AI bot or a real person.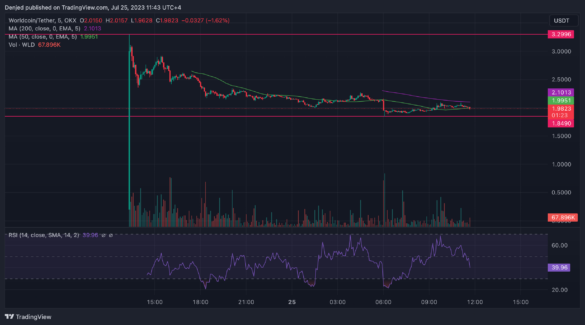 Microsoft is set to release its earnings today while shares are trading at $345.11. Earnings Per Share is forecasted at $2.55 and Revenue is forecasted to come out at $55.44bn.
There was a high set at $366.78 last week as the market has been pricing in the end of the rate hike cycle.
Price action is trading above the EMAs after we saw a golden crossover earlier this year.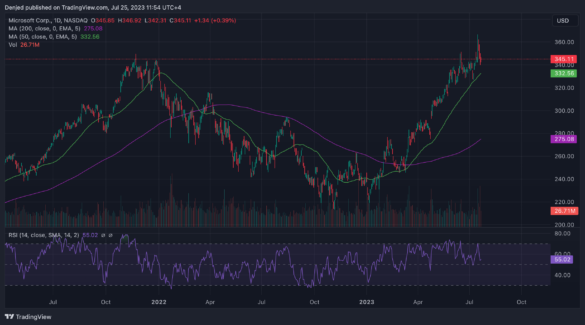 Gold bounced off the support area near $1955 in anticipation of the interest rate hike and the FOMC Press Conference on Wednesday.
These are the resistance levels as we expect some bullish momentum in the asset as we approach the Fed Meeting:
Resistance 1: $1985
Resistance 2: $2000
Resistance 3: $2011
As the aggressive hiking cycle moves into our rearview mirror, the market can expect bullish moves in the precious metal.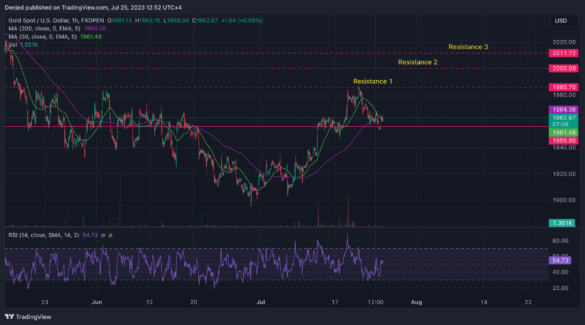 Crypto products are unregulated and could be highly volatile. Please be aware of the risks before investing.
Trading Disclaimer
DIFX shall not be responsible for any loss arising from any investment based on any recommendation, forecast or other information herein contained. The contents of this publication should not be construed as an express or implied promise, guarantee, or implication by DIFX that the forecast information will eventuate, that clients will profit from the strategies herein or that losses in connection therewith can or will be limited. Trades in accordance with the recommendations in an analysis, especially leveraged investments such as foreign exchange trading and investment in derivatives, can be very speculative and may result in losses in particular if the conditions or assumptions used for the forecast or mentioned in the analysis do not eventuate as anticipated and the forecast is not realized.