DIFX Buzz: Here's a weekly market recap for you to start your Monday with the top news of the week.
Read the Data
Let's take a quick look at some market data:
US Stock Market from the Beginning of 2022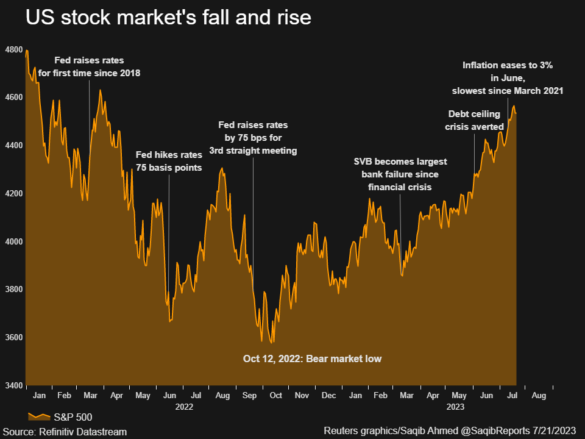 ❖ In early 2022, we saw stocks fall as the Fed began raising interest rates.
❖ After the 3rd consecutive 75 basis point rate hike, the US stock market hit its lowest point.
❖ Since then, there have been some gains back to the early 2022 levels.
❖ SVB caused a hiccup in prices but the Fed acted quickly to evade any cascading effects.
❖ With the hiking cycle nearing its end, we could see a shift in the stock market.
Fed Target Rate at the Highest Point Since 2007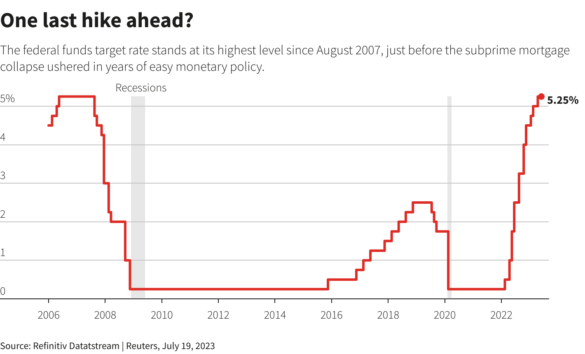 ❖ This week may be the final rate hike for the Fed and the chart shows how rates have moved since the Great Recession.
❖ If Jerome Powell goes down the dovish route with his speech and during the press conference, we can expect the Dollar to slide back to $100.
❖ Economists have mentioned that we may not see rates reach as low as they have been for the past decade which was almost 0%.
XRP Before and After the Judgment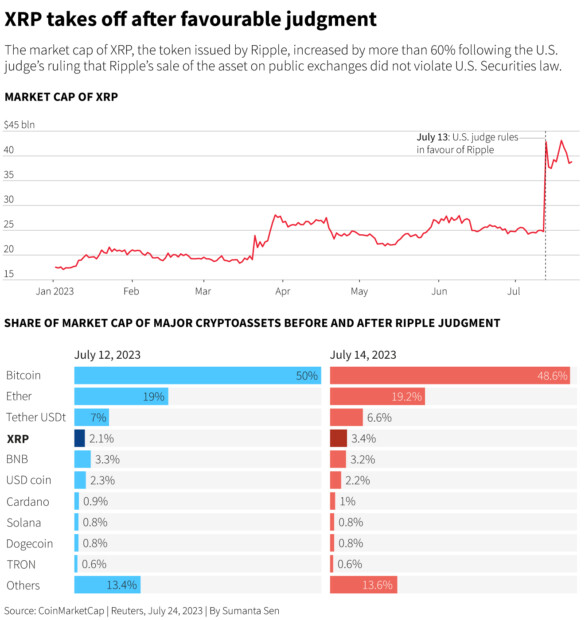 ❖ XRP had 2.1% of the market cap share before the court ruling and jumped to 3.4% afterward.
❖ It's clear that we saw investors pulling out funds from stablecoins such as Tether to purchase XRP as the USDT market share dropped from 7% to 6.6%.
❖ A similar shift happened in Bitcoin as its market share dropped 1.4%.
❖ The Ripple ruling had a positive impact on the entire crypto market, however, we are still not seeing the volumes we saw last year.
Look into Markets
Let's see what happened in markets this week:
Forex
❖ The Indian Rupee reached a more than 2-month high on Tuesday as traders' opinions on whether the RBI intervened differ.
❖ The Canadian Dollar rose after oil had some gains. The currency has a strong correlation with Crude Oil since it is the largest global exporter of the commodity.
❖ The Dollar Index is floating at the resistance area near $101.3 in anticipation of the FOMC Press Conference. Traders will be listening in to the language Jerome Powell uses during his speech and whether he decides to lean towards a hawkish or dovish narrative.
Equities
❖ Microsoft earnings are released Tuesday this week. Earnings Per Share is forecast at $2.55 and Revenue is forecasted to come out at $55.44bn.
❖ Alphabet earnings will be released on Tuesday this week as well. The forecasts are:
❖ EPS: $1.34
❖ Revenue: $72.78bn
❖ Twitter has announced they are rebranding to "X" which could be complicated legally as META and Microsoft have IP rights to the same letter.
Crypto
❖ OpenAI founder Sam Altman launched Worldcoin worldwide on Monday in 20 countries.
❖ Users can now sign in and verify they are human by performing an iris scan.
❖ In some countries, new users are incentivized with WLD tokens after registering their World ID.
❖ The founders of Worldcoin are adamant that human verification tools will be of utmost importance in a world where generative AI such as ChatGPT become more prevalent.
Commodities
❖ The Russia-Africa summit taking place this week will discuss Moscow's grain and fertilizer exports.
❖ Oil is seeing gains as there are indications of tighter supplies from US Crude data while China discusses policy support to boost its economy.
❖ Gold is highly sensitive to interest rates and with a rate hike more than likely to come out on Wednesday, we may see sideways trading in the asset until the FOMC Meeting.