The Core PCE Price Index came out toward the end of last trading week, signaling a cooling inflation rate. Nonfarm Payrolls coming out on Friday will give investors an indication of how the job sector is performing while the market begins to look ahead to September and whether we shall see one last rate hike or not.
Check out the calendar below to see what economic data is due this week.
In today's DIFX Analytics, we're going to look into the following assets:
Bitcoin is retracing down toward $28,200. The price action is in a bullish trend on the Daily chart, however, we see the lower support level of this trend was hit before some substantial gains upward.
The next range is $32,200 – $37,000 once we see the resistance broken.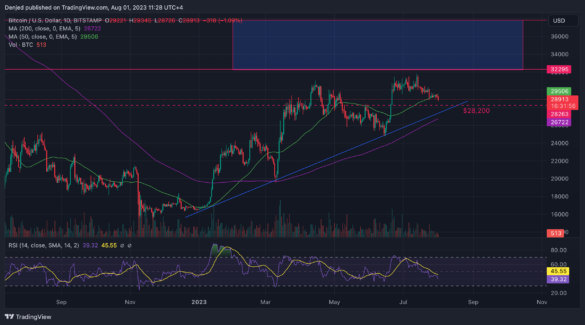 In the long term, Gold is expected to slide to the lower support trend. We should see long positions build up near $1920-$1930.
Nonfarm payrolls later this week should give some signals on the job sector growth.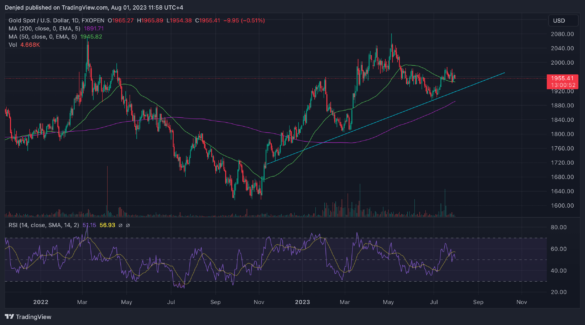 The Japanese Yen is sliding against the Dollar since Governor Ueda announced the tweaks in the YCC.
Traders are weighing out how flexible they will be moving forward as they shift away from the ultra-dovish policy.
Price action is on an upward trend with USD gaining after an upbeat earnings week. Nonfarm payrolls coming out on Friday should have an effect on the FX pair.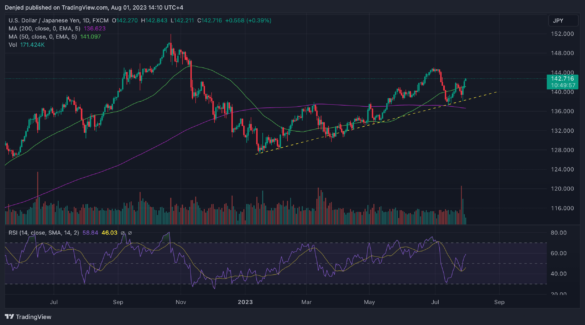 Crypto products are unregulated and could be highly volatile. Please be aware of the risks before investing.
Trading Disclaimer
DIFX shall not be responsible for any loss arising from any investment based on any recommendation, forecast or other information herein contained. The contents of this publication should not be construed as an express or implied promise, guarantee, or implication by DIFX that the forecast information will eventuate, that clients will profit from the strategies herein or that losses in connection therewith can or will be limited. Trades in accordance with the recommendations in an analysis, especially leveraged investments such as foreign exchange trading and investment in derivatives, can be very speculative and may result in losses in particular if the conditions or assumptions used for the forecast or mentioned in the analysis do not eventuate as anticipated and the forecast is not realized.