Welcome to the latest edition of DIFX Dive, your go-to source for a weekly update on the financial markets.
This week's landscape is teeming with significant events that are sure to make waves. From the renowned Jackson Hole Symposium, where central bank policymakers convene annually, to the intriguing soft-landing narrative gaining traction in the market.
Turkey's imminent decision to increase interest rates amidst soaring inflation, China's unexpected rate hike stirring concerns about its economic health, and Nvidia's upcoming earnings release that's set to reverberate across the stock market. Notably, the rise of US bond yields is casting shadows on the value of Gold, while Bitcoin, amidst a flurry of liquidations, has witnessed a dip to a two-month low.
Stay tuned as we delve into the intricacies of these market-shaping developments.
In today's DIFX Analytics, we're going to look into the following assets: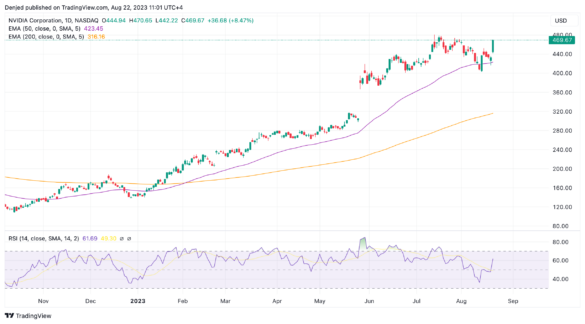 ❖  There will be an earnings report this week and many investors expect figures to beat expectations.
❖  The stock rose 6% last week in anticipation of the earnings report.
❖  Nvidia has made monumental strides in 2023, fueled by developments in artificial intelligence.
❖  Generative AI has attracted a stream of investment into tech and Nvidia has reaped the benefits of the boom.
❖  Gold is on a long-term bearish trend with rising yields hurting the asset.
❖  As yields rise, this increases the opportunity cost of holding the metal, which decreases the value of Gold.
❖  Tuesday trading we are seeing a slight retracement upwards but we expect bearish price action to follow for the rest of the week.
❖  At the time of writing Bitcoin is trading near $26,000.
❖ There were liquidations on long positions last week resulting in the digital asset falling to the 2-month low.
❖ Price action is now below the 50 & 200 EMA's on the daily chart which indicates bearish sentiment.
❖  We see the next support area as $24,700.
Crypto products are unregulated and could be highly volatile. Please be aware of the risks before investing.
Trading Disclaimer
DIFX shall not be responsible for any loss arising from any investment based on any recommendation, forecast or other information herein contained. The contents of this publication should not be construed as an express or implied promise, guarantee, or implication by DIFX that the forecast information will eventuate, that clients will profit from the strategies herein or that losses in connection therewith can or will be limited. Trades in accordance with the recommendations in an analysis, especially leveraged investments such as foreign exchange trading and investment in derivatives, can be very speculative and may result in losses in particular if the conditions or assumptions used for the forecast or mentioned in the analysis do not eventuate as anticipated and the forecast is not realized.