Janet Yellen stated that the government may default if Congress did not come to a decision by June 5th or next Monday.
Jobs data out on Friday will give strong signals as to how the Fed may navigate the next interest rate decision.
Gold falls as a rate hike in June is being priced in. Projections of a 25 basis point rate hike have risen from 24% last week to over 60% this week.
In today's DIFX Analytics, we're going to look into the following assets:
Bitcoin rebounded upward over the weekend and hit a 3-week high of $28,452. This could be a combination of good regulatory developments stemming from Hong Kong and the EU and the fact that investors could be shifting some funds to Bitcoin as a hedge against uncertainty.
The asset still looks bearish and we can draw a descending resistance trend line which plays into price action. We can expect bearish moves toward the support at $27,000.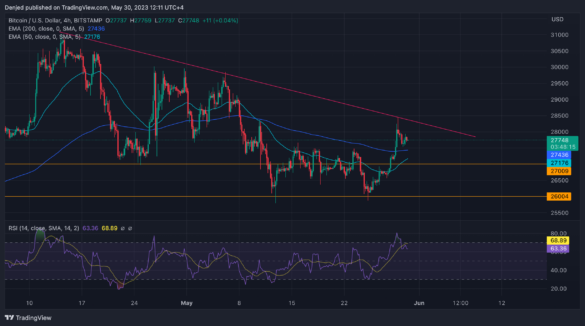 USD/CHF is trending up and there is a noticeable ascending triangle formation which is bullish. We should see the price make a move for $0.91 if it breaks out of this triangle.
Dollar bulls surrounding the market are influencing gains in USDCHF. RSI is at a neutral level with a lot of room for upside momentum.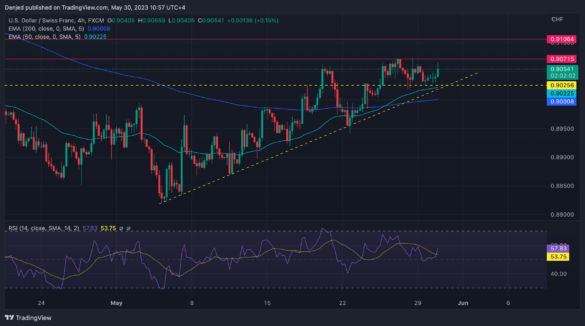 Gold is trending lower and RSI momentum has fallen to readings between 30 – 50. The bearish sentiment around Gold is a result of money markets pricing in a 25 bps rate hike in June from the Fed.
Projections of a 25 bps increase in interest rates jumped from 20% last week to over 60% this week. As the market prices this in, we have seen Gold slide as the precious metal struggles within a high-interest rate environment.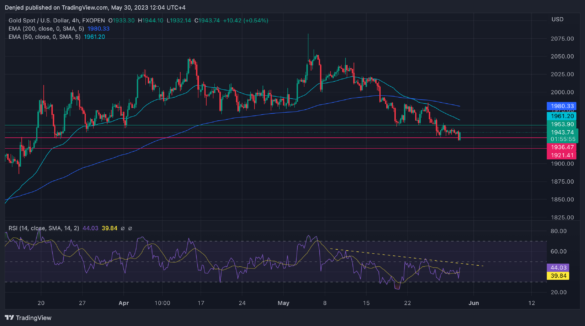 EUR/USD is trading in a bearish fashion. The currency is pricing in 75 basis points of rate hikes left for the single currency but this hawkish policy can't compete with the bullish sentiment we are seeing in USD.
Driven by uncertainty, the Dollar is gaining as money markets await a solution surrounding the debt ceiling.
Nonfarm payrolls out Friday this week will play a major role in signaling if the Fed will hike rates in June.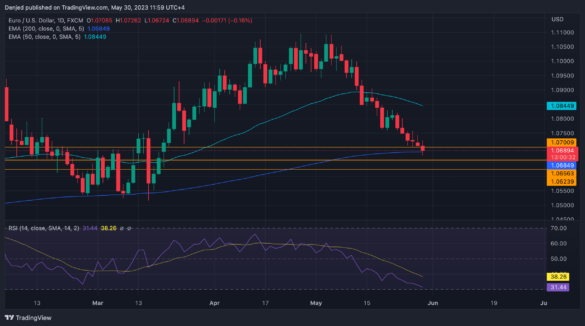 Crypto products are unregulated and could be highly volatile. Please be aware of the risks before investing.
Trading Disclaimer
DIFX shall not be responsible for any loss arising from any investment based on any recommendation, forecast or other information herein contained. The contents of this publication should not be construed as an express or implied promise, guarantee, or implication by DIFX that the forecast information will eventuate, that clients will profit from the strategies herein or that losses in connection therewith can or will be limited. Trades in accordance with the recommendations in an analysis, especially leveraged investments such as foreign exchange trading and investment in derivatives, can be very speculative and may result in losses in particular if the conditions or assumptions used for the forecast or mentioned in the analysis do not eventuate as anticipated and the forecast is not realized.